Things to Do
In Rowan County, you have the opportunity to be an original. Attractions to businesses, experiences to the people, it all comes together here. Our engaging countryside complete with rolling landscapes, parks, lakes and pick your own farms, paired with our urban centers with historic sites, theaters, live music, shopping, museums and local dives is what makes our destination truly original. Whether you're traveling with kids, exploring new places or taking a romantic getaway, we've got sites to see and things to do in Rowan County.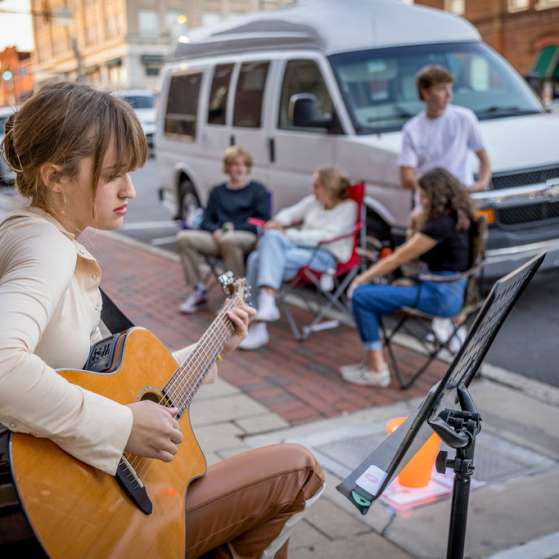 Rowan County is rich in history and so are the towns and communities that make up this authentic North Carolina destination. Each community in Rowan County has its own story to tell and is…
Rowan County is a haven for outdoor lovers. Offering a variety of choices for some of North Carolina's best outdoor recreation, you'll find hiking, swimming, biking, fishing…
Rowan County is a place where heritage and history are highly valued and noticeable around every turn.
Art isn't just a tourist attraction here. It is part of Rowan County's culture and creative spirit of individualism.
Rowan County offers urban and rural family fun seven days a week. When looking for places to visit, we know that families are searching for lasting memories.
Rowan County is rooted in the land, and food is an integral part of our culture. Not only do we offer great places to eat, but there are numerous pick-your-own farms, roadside stands and…
Pick original from the Salisbury Rowan County Farmers Market. They provide an opportunity for local produces to sell fresh produce and other commodities directly to customers, while…
Rowan County has style, and plenty of shopping. Flourishing arts and craft galleries, one-of-a-kind retail stores, antique shops, and more line our main streets and towns.
The health and wellness of our community and visitors is a top priority in Rowan County. While you're in town check out our walking and hiking trails, fitness facilities, juice shops…
Experience original nightlife in Rowan County. From breweries, taverns and live music venues, to rooftop bars and lounges, Rowan County makes the night come alive. Salisbury's downtown…