Cheerwine Festival - Rowan County, NC
You may find Cheerwine enthusiasts far and wide, but you won't find anyone prouder of the original soft drink than it's hometown of Salisbury, NC. In 2017, the legendary soft drink celebrated its 100th year of cheer with a massive street festival. The festival attracted tens of thousands of people from across the Carolinas, and quickly became a staple of our community, with more than 60,000 attendees flocking to Downtown Salisbury each year.
Cheerwine lovers take over Downtown Salisbury each spring to experience food trucks, Cheerwine-inspired food, craft and Cheerwine memorabilia vendors, kid's play area including rock climbing, games and bounce houses and two beer gardens. In case we weren't clear, you'll find all things Cheerwine! You'll find entertainment throughout the day including stilt walkers, jugglers, historic displays, trolley tours, face painting, live music and more. Live music takes place on two stages throughout the day and finishes in the evening with the headlining band. Headliners in the past have included multi-platinum pop-rockers Smash Mouth and Sister Hazel.
Join us in Rowan County each spring to celebrate our legendary original, Cheerwine. Spend the day sipping on the nectar of the south, while enjoying all-day family fun.
Cheerwine Festival Map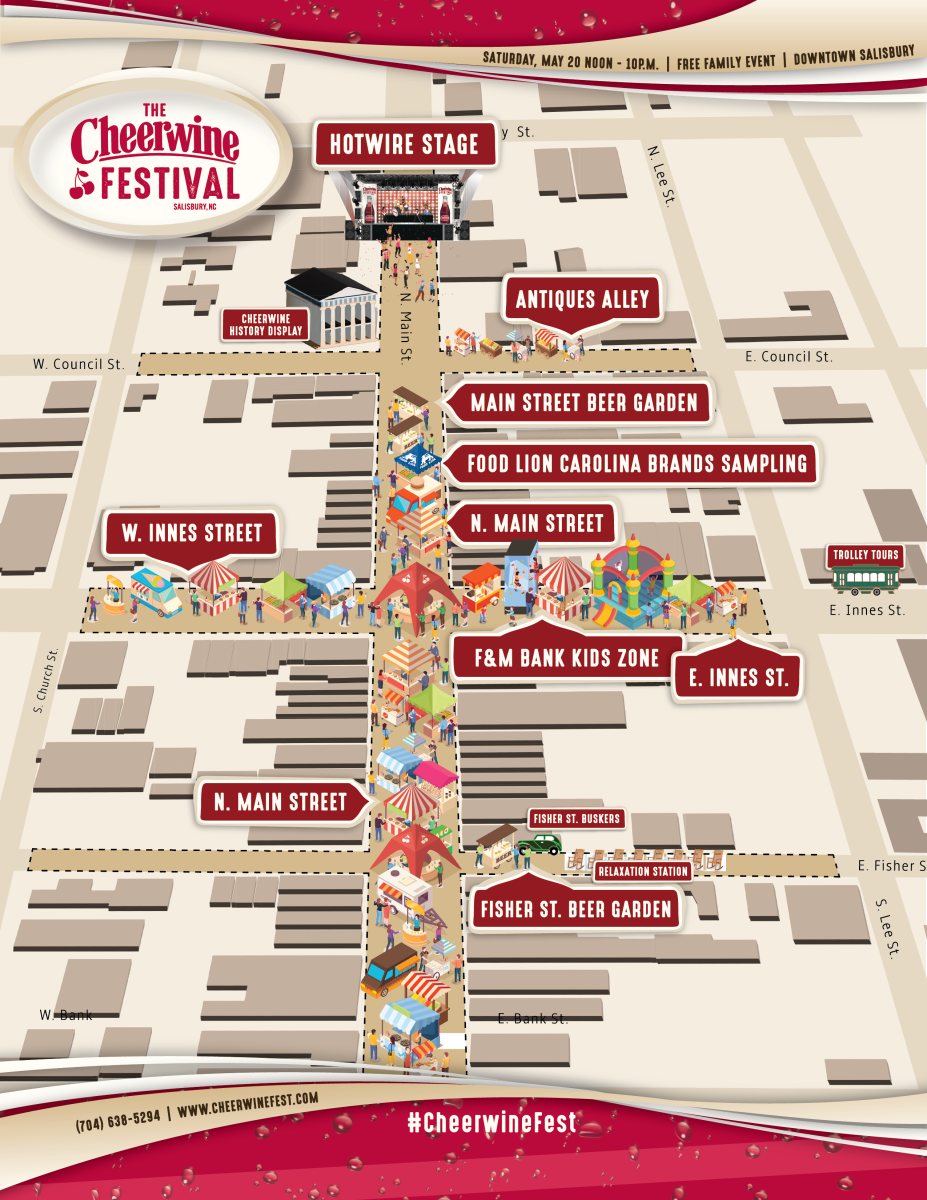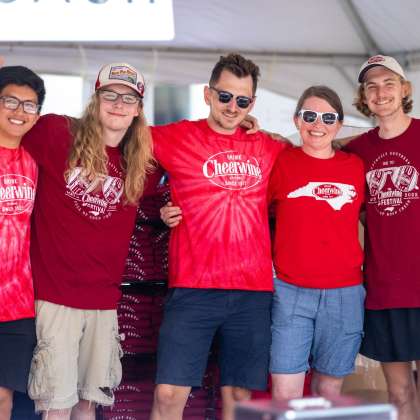 Your Guide to the 2023 Cheerwine Festival
March 16, 2023
One of the most highly anticipated days in all of Rowan County is the day we all come together in…
Cheerwine Festival FAQ
What happens at the Cheerwine Festival?

The Cheerwine Festival is a local tradition celebrating the "Uniquely Southern" drink, Cheerwine, in its
hometown of Salisbury, N.C.. At the festival, you will discover hundreds of vendors, musical
performances, Cheerwine-themed merchandise, food, drinks, and more!
Is the Cheerwine Festival free?

Cheerwine Festival is a free festival! However, if you'd like to make purchases at any vendor location
during the festival, be sure to bring extra spending money – there is a LOT to choose from!
Where is the Cheerwine Festival held?

Cheerwine Festival is held annually in the downtown of its birthplace, Salisbury N.C.. The festival takes
up multiple blocks of Downtown Salisbury, with the main center of the event being located at the cross
of Main & Innes Streets.
How many people go to the Cheerwine Festival?

The attendance numbers continue to rise for Cheerwine Festival! At its start in 2017, the event saw a
turnout of over 30,000 people. However, 2022 welcomed an estimated 60,000 Cheerwine lovers to
Downtown Salisbury, N.C.!
Where is Cheerwine sold?

In Salisbury alone, there are a whopping 101 vendors that sell the Rowan County staple, yet Cheerwine
can be found in 40 of the 50 United States of America! If you're looking for Cheerwine near you, the best
way to discover where you can buy it is by using Cheerwine's official vendor locator here:
https://cheerwine.com/find/
What time is the Cheerwine Festival?

This year, Cheerwine Festival will occur on May 20, 2023, from noon to 10 P.M.!
Is Cheerwine Alcoholic?

Cheerwine is a non-alcoholic beverage, safe for anyone to drink!