Easy access to small town experiences and outdoor adventures alike - that's one unique characteristic you'll find during your visit to Rowan County. And when it comes to outdoor adventures, we have a lot to offer. Here it doesn't matter if you're an avid hiker in search of the perfect trail, an amateur golfer in need of a challenging course or simply someone who loves to enjoy the beauty and tranquility of the great outdoors. When adding outdoor experiences to your itinerary, here are some places and activities to consider to ensure you and your family #AdventureOriginal.
Hiking & Biking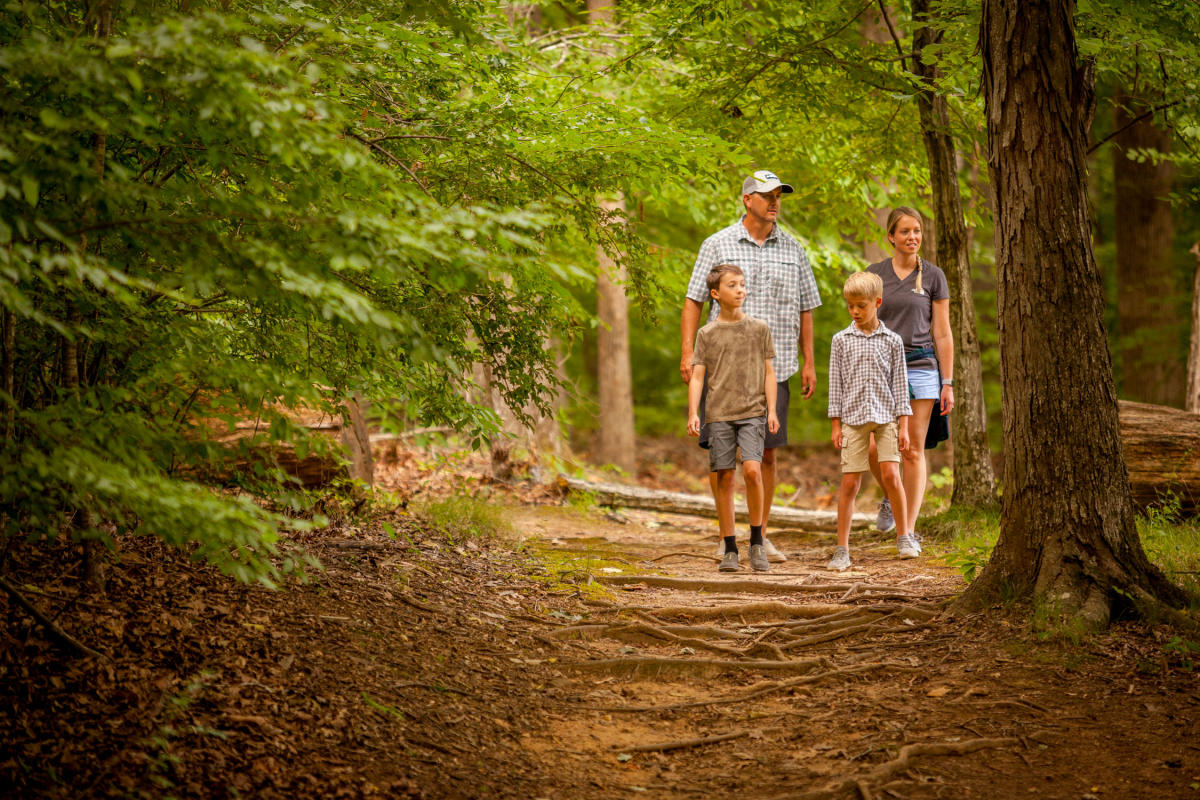 Photo taken at Eagle Point Nature Preserve in Salisbury, N.C.
Whether you're hiking the mountain itself or simply enjoying the scenery of this 83-acre park, Dunn's Mountain Park is a perfect place to get your nature fix. With gorgeous views, bird watching, picnic areas, camping areas and so much more, this park is sure to take your breath away.
Exercise and tour the county all at once with this unique bike route. This self-guided bike tour explores the depths of our scenic county in a 226-mile route linking cities, towns, points of interest and recreational areas on the more lightly traveled roads favored by our local bicyclists. On your next visit to Rowan County, drop by our Visitors Center to pick up our Bicycling Rowan County brochure or download a digital copy here.
This impressive trail covers not just Rowan County, but 14 others as well. Famously the Carolina Thread Trail flawlessly connects greenways, trails and blueways together so that your exploration stops and ends wherever you wish. Adventure through the trail and discover some of our county's great outdoor icons including Granite Lake Park Trail, Granite Civic Park Trail, Dan Nicholas Park Trail, Royal Giants Park Trail, Salisbury Greenway, Gold Hill Rail Trail, Ellis Park Trail, Salisbury Community Park Trail, Lake Corriher Wilderness Park Trail and Bakers Creek & 8th Street Greenway.
Appealing to hikers and nature lovers alike is the spacious 200-acre nature preserve, Eagle Point. Located right off High Rock Lake, you can experience three miles of fat tired bike-friendly trails which lead to views of the lake and wildlife observation points. Not only is it perfect for a scenic hike, but it also serves as a great place to access the lake to canoe and fish.
This special guided bike tour presented by The Pedal Factory tours the streets of Downtown Salisbury while introducing you to historic landmarks and sites in the area. On this five-mile tour, you will come across vibrant artwork, sculptures and murals along with green spaces, cultural spots and unique shops that you will only find here. 
A Stroll or Picnic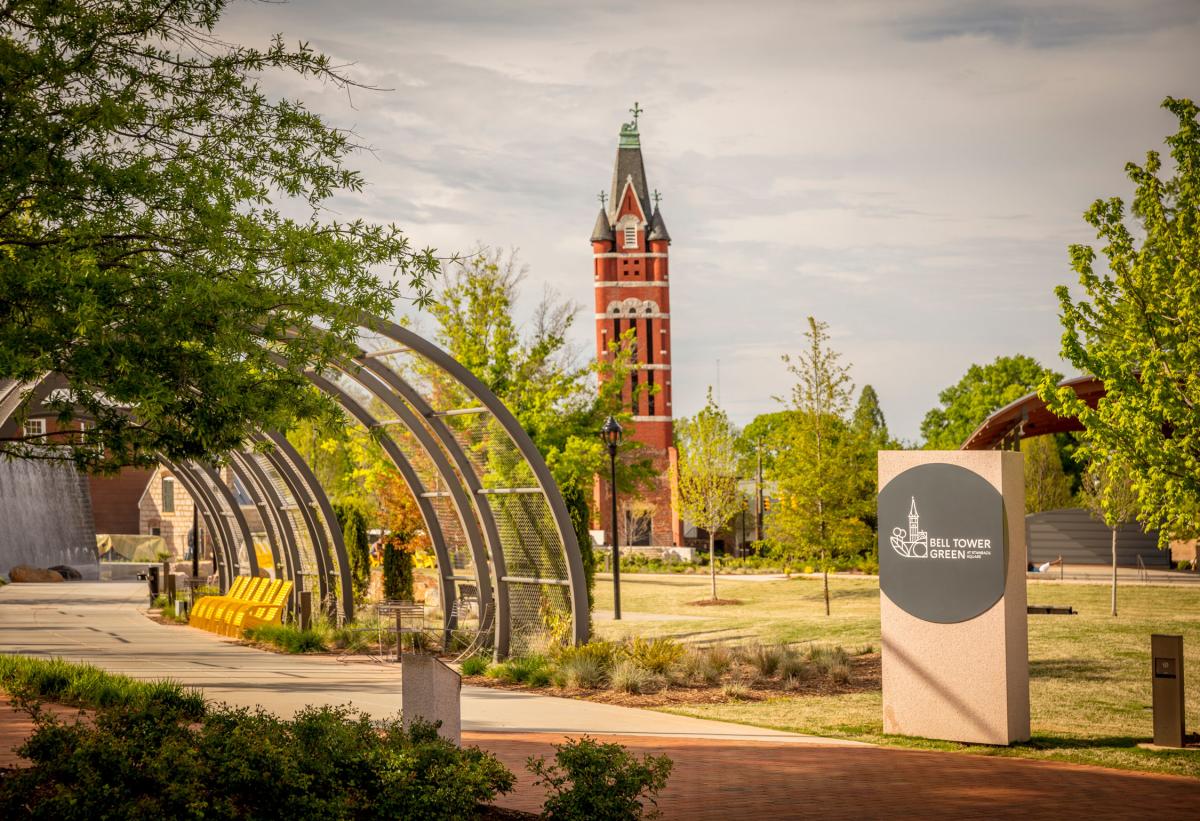 Photo taken at the Bell Tower Green in Salisbury, N.C.
Located in the heart of Downtown Salisbury is Rowan County's newest park, the Bell Tower Green. On most weekend evenings in the summer, the park hustles and bustles with live music and movies in the park at the Reels & Riffs event. During the day, the park acts as a prime location to allow kids to adventure in its custom designed play area and stay cool with its aesthetic waterfall wall. Seating areas are scattered for enjoying a quick bite or picnic, and its large green space is perfect for playing ball or catching some rays. At night, watch as the park comes to life and sets the mood with string lights lining pathways so you can enjoy the space no matter the time of day.
Amphitheater, splash pad, the Rotary Express Train, picnic shelters, a playground, walking trail and a large open greenspace makes Village Park in Kannapolis, N.C. one of a kind. This park is a perfect spot for families to gather together and enjoy a beautiful outdoor space while having tons of fun. Be sure to check out their Summer Concert Series and Movies in the Park events where you and your family will discover where entertainment and the great outdoors blend perfectly together.
Also located in Kannapolis is the famous plaza dedicated to NASCAR legend, Dale Earnhardt. The Dale Earnhardt Plaza is packed full of Easter eggs that only a true Dale fan would recognize - that is, of course, besides the nine-foot-tall statue of the legend himself which can be hard to miss. However even if you aren't a NASCAR fan, while strolling through the plaza the design of the pathways and landscaping is enough to leave you feeling serene and one with nature.
On 70 acres of land in the small town of Gold Hill, N.C. is the Gold Hill Mines Historic Park. Historical landmarks dating all the way back to the first ever gold rush, several miles of trails, a playground, a massive greenspace and picnic areas make this privately owned park a great location to take the family out and enjoy a nice stroll or picnic.
Granite Lake Park is stroll and picnic perfect in our book. Located in Granite Quarry, N.C., the park is made up of paved walking trails around a tranquil one-acre lake and features a playground, two piers and fountain in the lake's center to set the peaceful tone of the park. Whether you're looking for a spot to view ducks and fish, a place to zen out on a stroll or a space to enjoy a pleasant picnic, Granite Lake Park has got you covered.
On or By the Water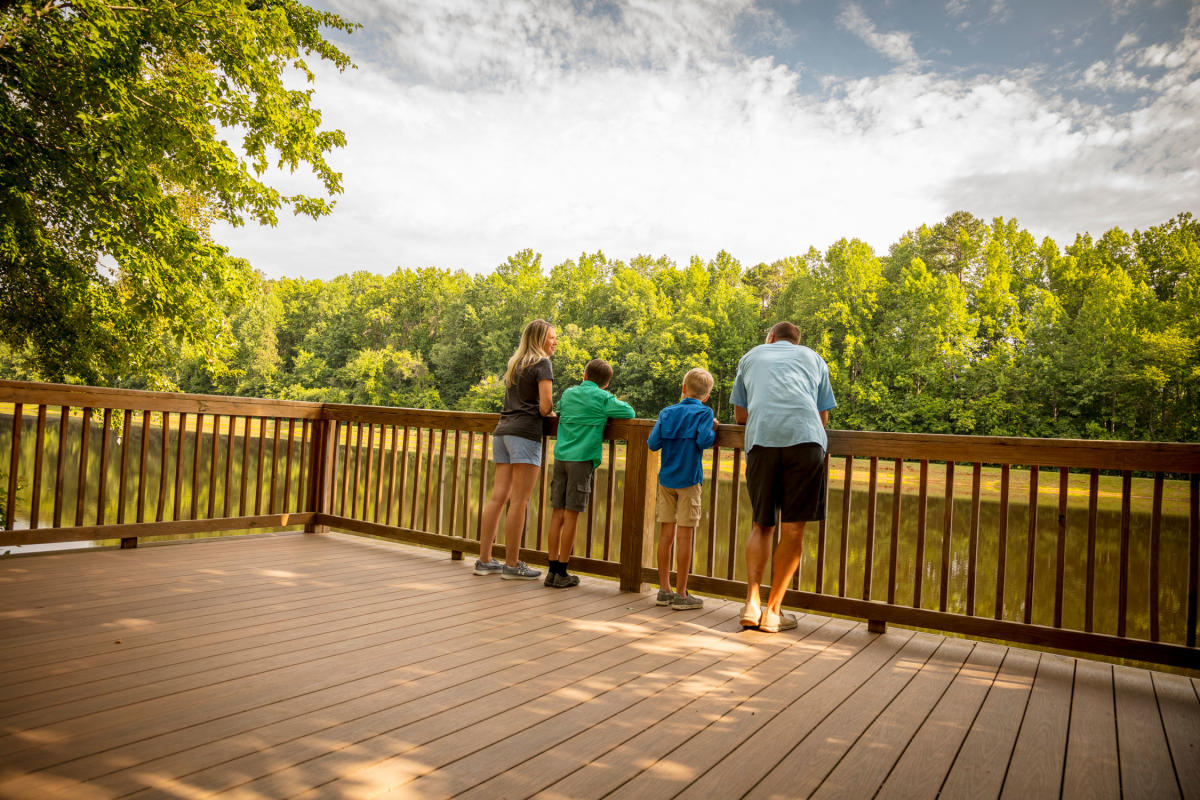 Photo taken at Lake Corriher Wilderness Park in China Grove, N.C.
You may expect by the name that this park features only one lake, but you'll be pleasantly surprised to learn that you will actually find two lakes on your visit to Lake Corriher Wilderness Park. In addition to disc golf, picnic areas, covered shelters campgrounds and trails, Lake Corriher is home to some of the best areas to fish, paddleboat, kayak and jon boat, and offers rentals for each to make planning your visit a piece of cake. 
On the opposite end of the spectrum to kayaking on a lake is Blue Waters Pool - your all access pass to summertime adventure. This half-acre poolside getaway consists of 200 feet of concrete beach, jump boards, tube slides, batting cages and arcade all coming together to make a perfect place to include on your outdoor escapade itinerary.
The second largest lake in North Carolina and home to the famous annual Dragon Boat Festival is none other than High Rock Lake. This 15,000-acre reservoir on the Yadkin River is absolutely ideal for any boating and fishing excursion. While you're there, don't miss the opportunity to also check out Tamarac Marina & Campground which features a restaurant serving up delicious lake-side dishes and easy access to the lake itself.
Connected to a significant segment of the Carolina Thread Trail is the newly renovated Royal Giants Park. This one of a kind park located in East Spencer, N.C. features ball fields, picnic areas, a corn hole court and a custom designed, baseball themed splash pad that you quite literally will find nowhere else.
Hitting the Green

The centerpiece of The Club at Irish Creek is a stunning 18-hole Davis Love III Signature Golf Course. This Kannapolis, N.C. golf course is set into dramatic, rolling terrain that encircles a pristine 400-acre lake. The course's design takes full advantage of the mature forest, natural contours, and the ever-present lakefront which is visible from 16 of the 18 holes.
Founded in 1919, The Country Club of Salisbury is one of the oldest Country Clubs in the South and holds a focus on maintaining tradition while embracing the future. Whatever your pleasure, the Country Club of Salisbury offers various social activities, challenging recreation, attentive and courteous service, five star cuisines and a home away from home atmosphere. 
Since opening, Warrior Golf Club has grown into the state's premier semi-private golf facility. Located in China Grove, N.C., the course is made up of five sets of tees, over six miles of concrete cart paths, large A-1 bent greens and a beautiful practice area. The clubhouse features a full service pro shop for any of your equipment or apparel needs and Champions Bar & Grill serves a wide variety of food and beverage options. Before or after your round, be sure to relax on the spacious, covered cypress deck overlooking the 18th hole and Lake Wright.
The 18-hole Corbin Hills Golf Course in Salisbury, N.C. is a semi-private golf course that opened in 1956. Corbin Hills Golf Course measures 6,459 yards from the longest tees, has a slope rating of 118 and a 70.2 USGA rating. The course features 3 sets of tees for different skill levels and is perfect to include in a day of adventure.
Known for its tight pine-lined fairways and small bentgrass greens, McCanless Golf course seamlessly incorporates streams and ponds into a blissful nine-hole game. With the perks of the course being easily walkable and open year-round, McCanless is easy to put into anyone's trip itinerary. Already being adored by the locals of Salisbury, N.C., we are sure you will love McCanless just as much. 
Not far from Salisbury, Rolling Hills Golf Club offers terrific views and challenging play for golfers at every skill level. Well-groomed fairways and greens keep Rolling Hills Golf Club difficult yet friendly, and the staff can offer tips and tricks for playing your best round. Rolling Hills Golf Club is a terrific choice for your regular rounds of golf or a new destination for you and friends when visiting Rowan County.
This 18-hole championship par 72 also located in Salisbury, N.C. is an absolute must-play when visiting Rowan County. Designed by John LaFoy, the course winds its way through an old dairy farm making the views just as enjoyable as the game itself. Among the many memorable holes on this superb layout are the par 3-8th hole - a signature shot over water to a wide, shallow green. Adventure over to The Revival Golf Course for a challenging and memorable game during your next visit.
Parks and More Original Outdoor Adventures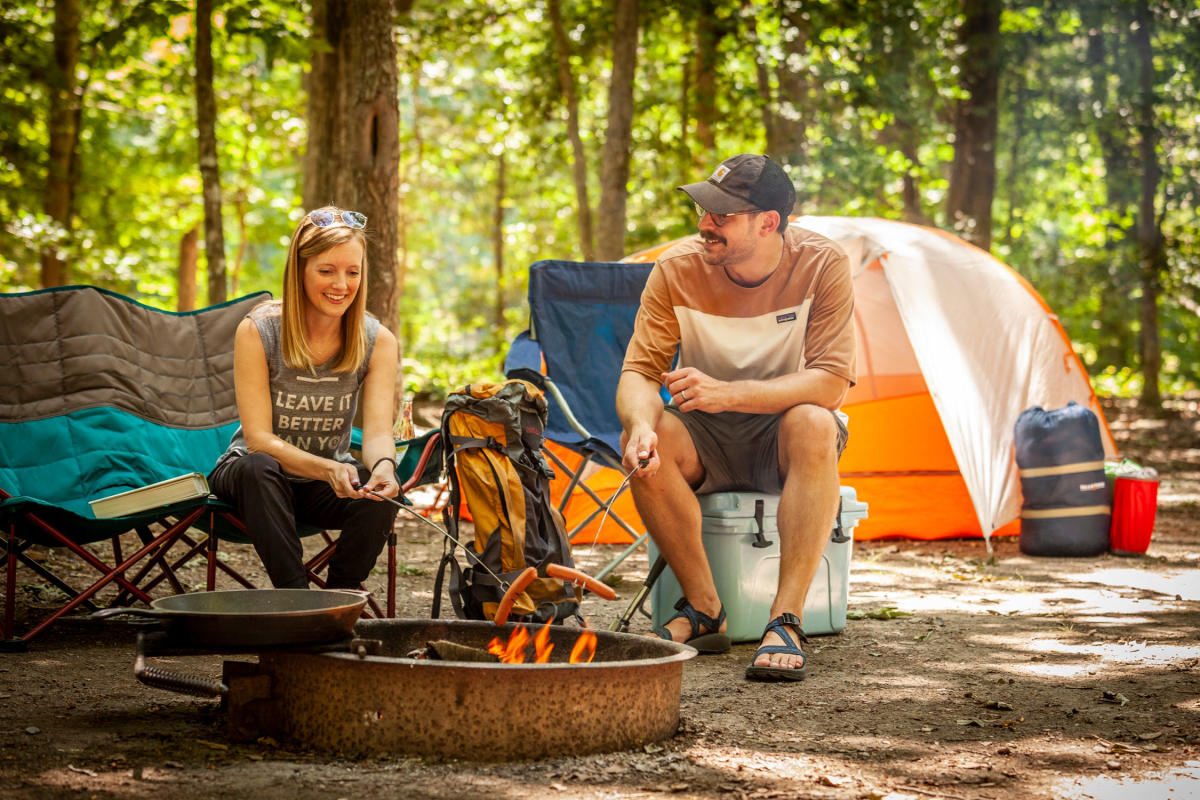 Photo taken at Dan Nicholas Park & Campground in Salisbury, N.C.
This Rowan County attraction icon has so much to offer that it is nearly impossible to categorize it. Gem mining, train and carousel rides, Rowan Wildlife Adventures nature center, mini-golf, multiple playgrounds, paddle boating, fishing, camping, picnic shelters, Hurley Family Water Plaza... you name it, Dan Nicholas has got it. The park itself is spread out over a whopping 425 acres and 10 of those acres are dedicated to just the lake alone. No matter how old you are, you are bound to feel like a kid the moment you adventure into Dan Nich's.
DogWorld Dog Park
If you're looking for an adventure perfect for both you and your fur baby, DogWorld Dog Park is a great place to turn to. This one-of-a-kind dog park is made up of an Olympic size swimming pool, two water slides, an 18-hole training course, an unfenced creek area and 12+ acres of fenced in areas. Be sure to come by and check them out the next time you're in Kannapolis, N.C.
Located in Salisbury, N.C., Ellis Park is fully equipped to make your adventure to Rowan County completely worthwhile. With bocce ball courts, two ballfields, a ceramics workshop, a disc golf course, trails, tennis courts, horseshoe pits, a game room, shelters, concessions and a children's playground, there is nothing Ellis Park is missing except for you and your family.
Adventure Rowan County by horseback at Painted Sky Ranch located on the edge of Rowan County in Mooresville, N.C. On their enchanted forest and creeks trail ride, you'll discover a new sense of serenity as you travel through their open fields and into charming wooded areas. 
Seven days a week from dawn to dusk, you can explore the outdoors at Baker's Creek Park in Kannapolis, N.C. Offering volleyball courts, tennis courts, mini-golf, horseshoe pits, greenway access, picnic shelters, concessions, a large playground and more, Baker's Creek has something in store for everyone to enjoy.
When looking for somewhere to stay during your original outdoor adventures, check out our campgrounds and cabins listed in our places to stay. We can't wait for you to #AdventureOriginal with us!