When Mary Rosser and her husband, Todd, moved back to her hometown of Salisbury after 20 years away, they were simultaneously delighted and dismayed to see so many people riding bicycles around town. 
As avid recreational cyclists, they were thrilled to meet kindred spirits who shared their passion. But they also saw many people riding poorly maintained bicycles as a primary mode of transportation, without wearing helmets or following proper rules of the road.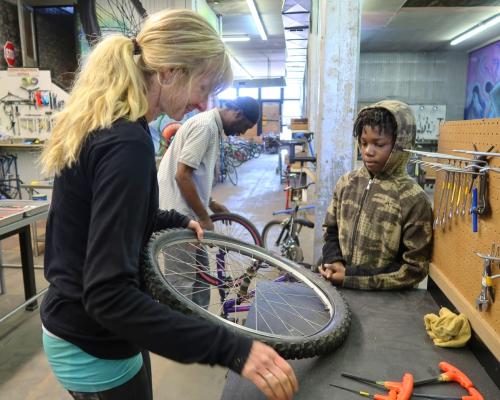 The Rossers discussed their observations with fellow cyclists on a Sunday afternoon social ride and learned that they all shared the same vision for a non-profit organization that would teach bicycle repair, maintenance and safety, and allow people in the community to earn their own bikes by participating and volunteering. 
"It was kind of an 'ah-ha' moment for all of us," Rosser said of the group, which also included Sharon Earnhardt, Rhonda and David Harrison, and Karissa Minn. They got to work, secured several grants and non-profit status, and The Pedal Factory was born.
Two years and hundreds of bikes later, downtown Salisbury has a unique working collaborative where anyone can have access to tools, parts, advice and a sense of community. The cooperative work space at 311 E. Council St. is filled with rows of donated bikes in every shape and size, helmets for those who don't have one, and boxes and bins organized with spare tires, chains, pumps, and tools. The atmosphere is welcoming, with colorful, large-scale murals by local graffiti artist Shane Pierce covering the walls.
The Pedal Factory hosts "open shop" the first and third Saturday of each month, when people volunteer or work on earn-a-bike projects. "If someone doesn't have a bike and wants to earn one, they volunteer for four to six hours and pick out a bike to fix up, and that becomes their bike," Rosser explained. "And you don't have to know anything about bikes to come in and volunteer. It's open to anyone, and anyone who is interested can come and pitch in and learn."
Tools and repair advice are available for free at The Pedal Factory, said Rosser, who recently completed bike mechanic school on a women's scholarship to be able to offer more assistance. "We're not a drop-off shop, but we have volunteers available to help anyone who is interested in learning how to fix and maintain their bike."
The Pedal Factory also plans events and outreach initiatives designed to make bicycles accessible to children and adults who need them. From bike rodeos and camps to organized rides, the events help raise awareness and educate the public about bicycle maintenance, safety and community responsibility. Community partners have ranged from the local sheriff's department to public schools.
On May 12, The Pedal Factory will host an original event called Art Pedal as a way to combine the fun of cycling with Salisbury's thriving arts community. Local artists will decorate 6-inch square canvases to be displayed at designated stops around town, and registered cyclists (or even walkers) will be able to choose at least four pieces to take home to keep. "We'll have plenty of art, and the number of pieces that each cyclist gets to keep will depend on the number of participants registered," Rosser said. "People who register will choose their own route to ride. This is a fun, social time, and you definitely don't have to be an experienced cyclist. You can even walk if you want to."
Additional cycling events are being coordinated for the summer with community partners including Salisbury Parks and Recreation and the Salisbury-Rowan Runners.
The Pedal Factory is all about paying it forward and making riding bicycles enjoyable and safe for all, Rosser said. "Everybody who rides a bike is a cyclist," she explained. "Whether you're on an organized ride for fitness or you're riding your bike to Walmart, everyone who is on a bike deserves the same respect."