After 22 years at the Sidewalk Deli, Rick Anderson can't see himself anywhere else. He's laughed, cried, loved and lost there, and he's served sandwiches, salads, soups and desserts to just about everyone who's been up and down Main Street in the last two decades.

"I think my mark of distinction is that I've got the longest-running restaurant downtown that was started and is still run by the same person," Anderson said.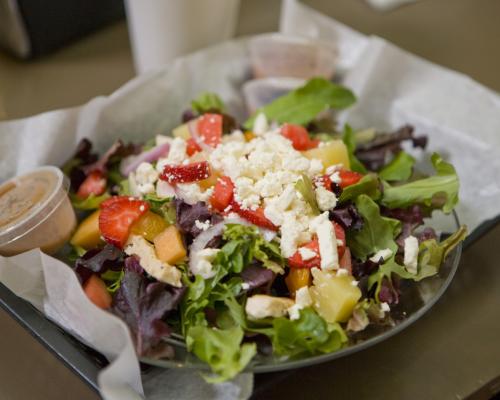 Sidewalk Deli is open Monday through Saturday from 11 a.m. to 3:30 p.m. and Anderson is always a blur behind the counter in his ubiquitous black Sidewalk Deli T-shirt, preparing food and greeting customers by name. "I walk about four miles a day in here," he said. "There's no time to stand around. I've got my treadmill at home, but there are only four of us who work here, so this is what keeps me skinny."

Anderson and his late husband, Scott McCombs, opened the deli on May 23, 1996. Their goal was to create a downtown deli that would serve the best sandwiches, soups and salads in town. Over the years, the number of offerings on the handwritten chalkboard menu on the wall has grown, but the old favorites from the early days are still there.

Menu items are named after local places, friends, neighbors and community figures, giving the deli a true connection to Salisbury and sparking interest and questions from customers. Bert's Best Club is named for Bert Oestreicher, who insisted that an excellent club sandwich was the staple of any good deli. Carolyn Hurley got her name on the board with Carolyn's BLT because she used to order Bert's Best Club with no turkey or cheese, extra bacon. "That's a BLT!" Anderson said with a hearty laugh.

Then, there's the whole "secret menu," consisting of favorite items that haven't made their way onto the board. "Where would I put them?" Anderson asked, pointing to the crowded chalkboard. "What would I take off? There's no more space." Favorite "secret menu" items include the Pimento Philly Cheesesteak (made with locally famous McCombs pimento cheese) and Scott's Reuben, a Reuben made with half corned beef and half pastrami.

When Scott died of cancer in 2010, the sidewalk outside the restaurant quickly turned into a large makeshift memorial, with an outpouring of flowers, cards and other expressions of love and sympathy from friends and customers. "A lot of people were surprised I kept the restaurant after Scott left," Anderson said. "But how could I not? It's something we created together. Why would I want to leave it?"
The customers also keep him loving Sidewalk Deli after all these years. He enjoys seeing familiar faces every day and, having grown up in Salisbury, he feels this is where he belongs. He's seen the downtown area at its highs and its lows and is proud to be able to offer encouragement and support to other business owners.

Anderson has been in business long enough to see generations of families enjoy his restaurant. "I've seen kids grow up and go to college and bring their own kids in to start their own tradition," he said. "I love seeing people run into their friends here. They'll pick up to-go orders and, by the time they've stopped to speak to the people they know on the way out, they're sitting down at the table to eat their lunch."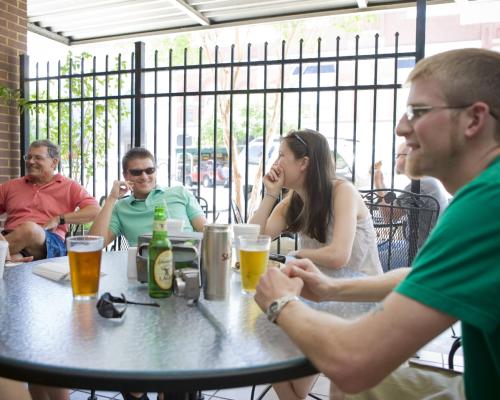 That local connection is what makes Sidewalk Deli and downtown Salisbury unique, Anderson said. "I see people wanting to see Salisbury succeed. They'll come downtown when they could go through a drive-through. By keeping me in business, they know their money will wind up back in the community one way or the other. 

"It's that spirit that makes Salisbury special," he added. "The more positivity you put out there, and the more you want to help other people, the more they want to help you back."