Imagine… a beautiful sunny day, a breeze blowing by, and a giant field of strawberries to explore right at your fingertips. This spring and summer, you and your family will find just that at Patterson Farm's original Very Berry Days pick-your-own strawberry experience.
Located on Caldwell Road in Mount Ulla, North Carolina, lies 85 acres of strawberries and Patterson Farm has set aside a section of their strawberry fields just for you. From April 23 until approximately June 5, come see what Patterson Farm has to offer regarding all things strawberries.
To prepare you for this strawberry season, here are a few things we recommend for your trip to Patterson Farm:
Purchase your tickets ahead of time (this is required), but it's easy as pie. Tickets for the event can be claimed here.
Use sunscreen! Remember, the strawberries are supposed to be red, not you.
Most importantly, bring empty stomachs. (You'll need the room for their infamous strawberry milkshakes!)
Along with this one-of-a-kind experience, your family will also have the chance to experience the rest of Patterson's Spring Fling on the Farm while you're there. Between the barnyard animal petting zoo, yard games, a giant slide, and the most unique farm-themed playground equipment you'll ever see, the activities at Pawpaw Carl's Barnyard & Playground will be calling your kid's name from the moment they lay eyes on it. These activities can be added onto your experience when you purchase your tickets online.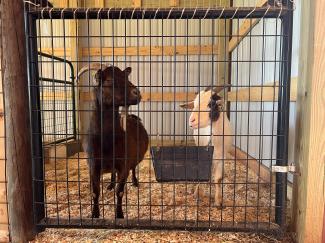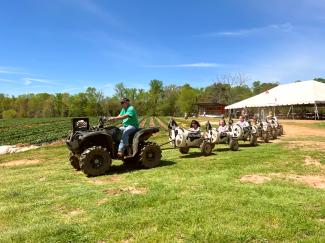 This year, Patterson Farm will be open Tuesday – Sunday 9 A.M. – 5 P.M. throughout their strawberry picking season. So, grab those baskets and let's get picking!
If you can't make it to the field this season, Patterson Farm Inc. also has their delicious strawberries for sale at local grocery stores, produce and farmer's markets, and Patterson's roadside satellite locations so no one will miss out on strawberries this season!
Learn about more original spring happenings in Rowan County by visiting our event calendar.